Our Expertise Maximize Your Application Success Rate!
When applying directly to an overseas university, the process can be complicated and confusing, not to mention the time-zone difference. University admissions teams are assessing thousands of applications every week. Attempting to get answers to your questions about entry requirements, program details and your application status could take a while.
We make life easier for you. Headquartered in Singapore, we have excellent connections with universities, colleges and professional agencies in UK, Australia, New Zealand and US. Applying through us is easy and you will receive all assistance free of charge: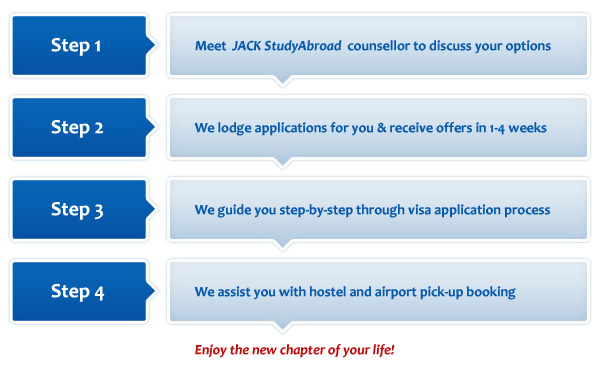 There are a few good reasons why you should apply through us:
We Lived and Studied Overseas
Most of our consultants have been working in this field for years and have studied or lived overseas. We share our true firsthand experiences which helps you to make the right choice. Remember, it's always important to apply to the programmes and universities best suited to you, instead of applying blindly to too many.
We Maximize Your Application Success Rate
We process hundreds of applications every year. We understand what universities want to see on your application. Our professionals will carefully check every detail of your application to maximize your chances of being accepted.
As an official University Representative, we know who to talk to if there are any issues on your application, and we know how to present your case perfectly. Sometimes we are able to link you to the right person at the university or negotiate a review on your case. In some cases, we are able to propose an interview opportunity for you.
We Take Care of Your Visa & Accommodation
Our team will also assist you with your student visa application, accommodation booking and travel planning. Isn't it much easier to have someone experienced guide you through the whole process!
Our Services are Free of Charge
Appointed by institution partners, all our university application services are Free to Singaporean and foreigners living or studying in Singapore. There's no catch – our company is legally registered with Singapore and is the Top 2 education agencies in Singapore for years.
In other words, we work for universities so that you enjoy a free service. Please be assured that your tuition fee will never be over-charged.
To apply directly to universities, you are on your own. With us, you have a professional team to help you and fight for you – and it's Free. Come to our office to have a chat!
We are Official Representative of Universities & Colleges
Many universities and colleges recognize the quality of our work and have appointed us as their official representative in Singapore. As the official representative, we could certify your documents so that you don't need to post them to the University to avoid delays and we could process your application faster, more accurately and possibly achieving better outcomes.
The role of university representative makes us an important link between you – the applicant – and the university. So contact us today if you are thinking about studying overseas – let us share our students' success stories with you and we are pretty sure that you will be the next successful one.
Are You in Singapore? You are eligible for our free service.
We are the
one-stop centre
in Singapore for university & visa application. Appointed by universities, our services are
free for students
in Singapore. Talk to us today to get advice on your study plan and assistance on your application.
Online Enquiry Form
Guide by Qualification
Guide by Program Type
Guide by Subject Areas
Guide by Country
How to Apply:
Call (+65) 6737 6734 for enquiries
Events Highlights