Study in the Australia:
List of OZ Universities:
Study Options:
How to Apply:
Facts about Australia
Population
22576830
Currency
1 S$ = 0.77 A$
Time zone (s)
0-2 hours ahead of Singapore
Drive on the:
left
International dialing code
61
Official language
English
Capital city
Canberra
Major cities
Sydney, Melbourne
Big mac
A$ 5.5
Half litre of beer
A$ 5.3
Can of coke
A$ 2.6
Bottle of water 1.5l
A$ 2.2
Cinema ticket
A$ 14
Study Overseas in Australia
Students looking to study overseas in an exciting and culturally rich land should look no further than "down under." Australia is one of the most travelled destinations in the world. Tourists flock to Australia in droves each year to enjoy a land that has just about everything, from sandy beaches to barren deserts to tropical forests to high mountain ranges. Australia isn't just a land rich in geologic diversity; it is also a country with current and deep-rooted historical links to the United Kingdom. As such, Australia offers the same high quality education that the UK is famous for, making it a desired locale for students wishing to study overseas in an exciting and culturally diverse land.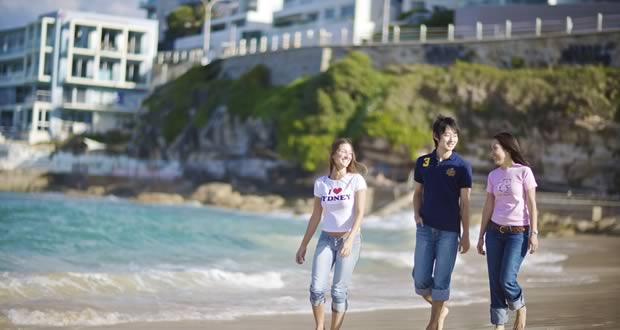 Quality Education is Key in Australia
Australia boasts 39 world-renowned universities. Students seeking a high quality education can partake in traditional studies to earn a generalised higher education degree, or specialised vocational studies to earn a focused higher education degree. Australia is proud of its universities and the teaching traditions they impart. Australian universities are known throughout the world to maintain an academic excellence that allows students to achieve their higher education goals a step above many other higher education institutions around the globe.
Learning Environments Shine in Australia
Touring Australia is a lesson alone. This land is rich in cultural history with an emphasis on the Arts. Australia welcomes students wishing to study overseas and encourages its international students to get involved in the country's ever-changing social, cultural and intellectual happenings. Students not only learn their desired major, they are also exposed to the rich learning environment that Australia, itself, offers just by being involved in what happens in the country on a day-to-day basis.
Why Should I Study in Australia?
Australia is just a 4-7 hour plane ride away from Singapore. It makes Australia one of the most popular overseas education destination for students from Singapore and Southeast Asia. There are few good reasons to study in Australia:
Innovative Education
Innovative Education
Australia understands that every student learns in his or her own way and offers a flexible, innovative teaching style to aide students in obtaining their higher education goals. Quality is also key in Australia's higher education system, and international students can be rest assured that they are receiving the highest education possible when studying overseas in Australia.
Learn to Speak English
Learn to Speak English
Australia is an English-speaking country that prides itself in teaching international students the English language. International students have the option to learn English at their own pace, or through intense coursework geared to get the students up to English-speaking speed quickly. English is one of the most common languages spoken throughout the world, and students who are bilingual have an edge over their single-language speaking counterparts when it comes time to look for employment.
Earn Independence Easily
Earn Independence Easily
Although studying abroad is an exciting prospect for most students, it can also be intimidating. Students are far away from their family, friends and the comforts of home. Australia is a friendly country with a world-class infrastructure and transportation and telecommunication systems that are easy to utilize. This gives students studying overseas the chance to get around easily and keep in touch with family members at home when feeling home sick.
Employment Opportunities
Employment Opportunities
Australia has a comprehensive work program for international students studying abroad. Students are encouraged to join the workforce while studying in Australia and are given preferential treatment for both employment and permanent residency upon completion of their studies.
Unsurpassed Place to Live
Unsurpassed Place to Live
Australia's astounding natural environment and world-class city life presents international students with a living environment found nowhere else in the world. Students living in the big cities of Australia enjoy all the modern-day conveniences they could possibly desire. Students anxious to get a feel for some truly rough terrain can spend their off time exploring the famous Australian Outback or Great Barrier Reef.
Rich and Diverse Culture
Rich and Diverse Culture
Australia boasts some of the most diverse cultures in the world. Although an English-speaking country, Australia is home to more than 100 ethnic groups, all of which directly and positively impact this grand country's political culture. Australia prides itself in its active participation in human rights, and encourages others to come and live in its land with one of the best welfare systems in the world. Students studying overseas will be welcomed with open arms by a country founded in cultural and ethnic diversity.
Are You in Singapore? You are eligible for our free service.
We are the
one-stop centre
in Singapore for university & visa application. Appointed by universities, our services are
free for students
in Singapore. Talk to us today to get advice on your study plan and assistance on your application.
Online Enquiry Form