A Year Fast-track Pathway to Top Universities. Guaranteed.
Foundation Year program is designed to prepare international students for universities. A typical Foundation year is a three-term course that provides an intensive, fast-track route to a university place. You could graduate to university year one in just 8 months upon successful completion.
For Singapore O' level students, you can to apply with your last year O level result so that you could join a Foundation year program in the coming September and graduate to university in the following year. Current secondary 4 students could use their preliminary result to apply in July-Oct so that you would be able to start a Foundation program in Jan the following year. Please refer to the diagram below:

Read more about the Foundation year program:
The Foundation course is an academically demanding course which consists of core academic modules and a choice of different subject routes, each carefully designed to focus on the academic areas most useful to your future study intentions. These routes lead directly to a range of specific degree courses in related disciplines.
There are Law Foundation program prepares you for law degrees, Business Foundation program for business degrees, Science Foundation program for science degrees and etc. You will only focus on your chosen degree and do not need to study subjects which are unrelated to it.
For example, these are the modules for a typical Law foundation year program:
English language and study skills
Political Institutions & Concepts
Modern British Politics
International Politics
The English Legal System
Contract Law
Tort Law
We do not consider this law foundation curriculum easy but you do not need to study unrelated subjects (such as adv. math or science) – it is perfect for those who are determined to study law-related degrees at university, including International Relations, Politics and Law courses.
Similarly, these are modules for a typical business Foundation year program:
Business Start-up & Human Resource Management
Marketing & Operations Management
Introduction to Accounting
Microeconomics
Macroeconomics
Business Mathematics
Since students are focusing on academic modules which are relevant to their future degree choice, studies have shown that Foundation Year graduates usually perform better than other international and local students at an university.
Foundation Year students attend university style lectures and tutorials, and classes are small – with 15 to 20 students – so they benefit from the frequent contact with the teaching staff. Small classes also make it easier for staff members to carefully monitor every student's progress and provide regular feedback throughout the year. It also gives the student the opportunity to interact more with their tutor and make them more confident.
Meet Mr. David Few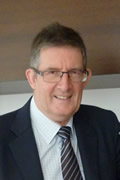 Are you comparing Foundation Program to A level program? Are you confused? Are you unsure about which foundation program is good? Come and have a chat with Mr. David Few. It's exclusively available in Singapore.
Mr. Few is formerly the Principal of Bellerbys College (Cambridge), the Global Admission Director, and the Global Recruitment Director for Bellerbys College for 18 years before joining JACK StudyAbroad as a director. He is now permanently based in Singapore. He would be happy to advise local students and parents. The topics covers comparison of Foundation program and A level program, different foundation programs in the UK and study planning for O level graduates. Read more and make appointment here: Meet Mr. Few in Singapore.
Are you in Singapore? You are eligible for our free services.
We are the overseas university application centre in Singapore. Fully funded by universities, our services are free for students in Singapore. Contact us to get free advice and assistance on your application, visa and accommodation.
Online Enquiry Form