What would you like to do?
Processing hundreds of student visa applications every year, we can improve your visa approval rate. This service is free for those applied to university with us
Know more about Visa services
Funded by universities, our services are free for students. Talk to a consultant
If you are an O level student considering Foundation year or UK A levels, please Meet Mr. Few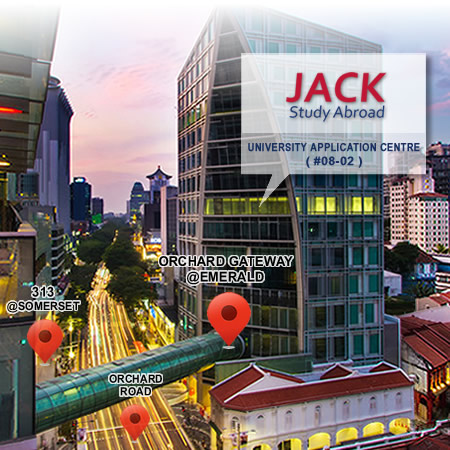 Overseas university application centre
Headquartered in Singapore, JACK Studyabroad has been appointed as their official representative by hundreds of overseas universities. We can help you apply to the overseas institutions, apply for overseas student visa and book student hostel & flight. Funded by universities, all our services are free of charge for students in Singapore.
Our friendly education consultants will work with you from initial enquiry through to your arrival at the university (read more: how to apply? | reviews by students).
Study options for students from Singapore
Are you in Singapore? You are eligible for our free services.
We are the overseas university application centre in Singapore. Fully funded by universities, our services are free for students in Singapore. Contact us to get free advice and assistance on your application, visa and accommodation.
Online Enquiry Form
Guide by level
Guide by country
Services
What to study?
Reviews by students