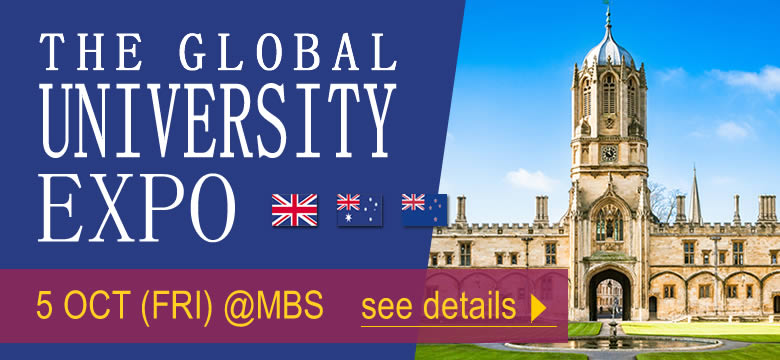 JACK StudyAbroad's Global University Expo ™  is a unique opportunity for students in Singapore to talk directly with representatives, admission officers, academics and professors from a large number of overseas universities. In addition, in each of our education fair, there will also be experienced JACK StudyAbroad education consultants available to answer your specific questions about the application procedure, entry requirement, accommodation, visa procedures, scholarships and anything else you might need answering in the following languages: English, Mandarin, Cantonese, Malay
University fair entrance fee
Our university fair attracts universities from UK, Australia and New Zealand and is of great value to any student interested in studying in the UK, Australia and New Zealand. Entry to our education fair is free for students in Singapore.
What to bring to the education fair
To ensure that you take full advantage of accurate advice, on-the-spot offers and scholarship opportunities available at the university fair, we recommend you bring the following:
A copy of your passport (not original)
O Level, A Level, Diploma or Degree transcript (they can be either completed / partial / forecast / preliminary results)
IELTS report (if any)
For students interested in art and design courses, please bring a portfolio of your work.
Past university fair
We just held one of our largest Global University Expo ™ on 12 Jan 2018 (Friday) at Marina Bay Sands Convention Centre. There were more than 50 institutions from UK, Australian, New Zealand and US attending. Below is the poster for Jan 2018 expo, which will give you an idea of the expo:
Upcoming university fair
The next Global University Expo ™ in Singapore will be on 5 October 2018 (Friday). This will be the largest university expo in Singapore in 2018 with more than 70 booths. You can expect a good range of UK, Australian and New Zealand Universities.
Please see more details here: Global University Expo - 5 Oct 2018