Coventry University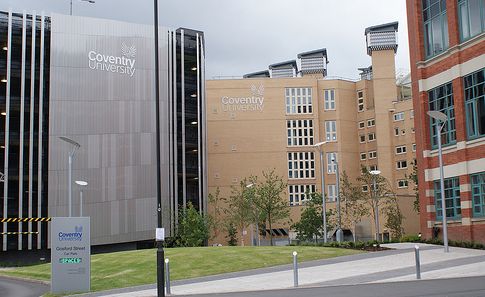 Coventry University began as Coventry College of Design in 1843. From 1970 to 1992, Coventry held polytechnic designation from the United Kingdom. In 1992, Coventry University earned its University status. Despite its youth as a university, Coventry has shot up the university rankings, jumping as high as 30 places within one year.
In the 2012 university rankings, Coventry University shot up from 83 to 53 in the Sunday Times University Guide. In the Times guide, Coventry also ranked higher than Warwick University, the University of Birmingham, and Aston University in the 'teaching excellence' category. Coventry also jumped 24 places within the 2012 Guardian League Table. This jump placed Coventry into the top 10 of all modern England universities.
Coventry continued its climb in the 2013 university rankings. The university was dubbed the 'UK's most improved institution' and jumped up 21 places from the previous year in the Times Good University Guide. It also jumped up 17 places in the 2013 Guardian University Guide. In addition to these scores, seven Coventry University subjects received a 4* marking in the 2008 RAE.
Coventry University boasts a large student body of approximately 24,000 students. Of this total, 13 per cent of Coventry students are international. Chinese students account for the largest population of overseas students, and the university has representatives worldwide to support overseas' students during the application process and after acceptance to the university.
City of Coventry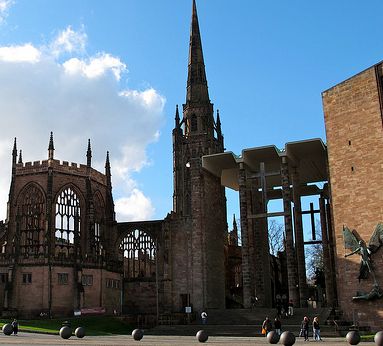 Coventry University is situated in the city of Coventry, England. Coventry houses 316,900 residents, a majority of which are students who attend Coventry University or the University of Warwick. Coventry sits 153 kilometres Northwest of central London and 31 kilometres East/Southeast of Birmingham, giving people easy access to two of England's other major cities.
As with many English cities, Coventry dates back quite far, to the Bronze Age it is believed. As such, Coventry mixes the classic architecture of an Ancient land with modern-day culture, including art galleries, cinema, drama, football, literature, museums, and music.
Map of Coventry University
Coventry University officially appointed representative in Singapore
JACK StudyAbroad
- Free services for Singapore students
Address: #08-02 Orchard Gateway @Emerald, Singapore 238851 (Opp. Somerset 313)
Phone: (+65) 6737 6734
Business Hours: Mon-Fri 9.30-18.00; Sat 10.00-13.30
JACK StudyAbroad helps you with:
Coventry University entry requirements and pre-application assessment
Certification of your application documents
Submission of application & follow-up
Overseas student visa (if required) application
Pre-departure advice
Funded by universities, all these services are free of charge for students in Singapore.
If you are ready to apply
Please complete the online application form (takes 3 minutes to complete).
If you need any help, advice or assistance on course information, application, visa and accommodation on Coventry University
We are happy to help. Please complete the enquiry form below.
Are you in Singapore? You are eligible for our free services.
We are the overseas university application centre in Singapore. Fully funded by universities, our services are free for students in Singapore. Contact us to get free advice and assistance on your application, visa and accommodation.
Online Enquiry Form