Lincoln University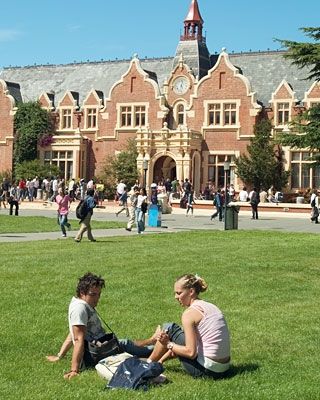 Lincoln University was established in 1990. Lincoln University's roots date back to 1878, when it began as Canterbury Agricultural College. In 1961, Lincoln University became Lincoln College – a part of the University of Canterbury – and eventually gained university status in 1990. Lincoln University is New Zealand's smallest university and the oldest agricultural school in the Southern Hemisphere.
Lincoln University's position as a land-based specialist was confirmed by the latest PBRF assessment in 2012. The PBRF 2012 results confirmed that Lincoln University demonstrates excellence in what are considered the core land-based disciplines. Lincoln research programmes Agriculture, Biological Sciences, and Environmental Management received excellent results in the assessment.
Of particular note was the university's application of these core sciences to current economic, management, and social science disciplines. Lincoln University focuses on sustainable stewardship of land for long-term preservation in its land-based research sciences. PBRF results confirmed that Lincoln University is New Zealand's top university for the highest quality of research per student. Seventy per cent of Lincoln's researchers placed in the highest PBRF category. This, in part, is due to Lincoln University's external funding, which is the highest amount of all New Zealand institutions.
Lincoln University is small, boasting an enrolment of only 3,323 students in the 2011 academic year. The international student population at Lincoln represents nearly half of that student body, however. That same year Lincoln international students totalled 1,252. China, Malaysia, and Saudi Arabia made up the top three countries from which these international came from to study abroad.
Town of Lincoln
Lincoln University is located in the town of Lincoln just 15 kilometres South of Christchurch, New Zealand. The town of Lincoln's population is a charming 2,727. Lincoln is primarily an agricultural and research area, but scattered throughout the green space are a golf course, driving range, and hiking trails. Christchurch is the closest major city to Lincoln and it has an active cultural scene. Christchurch is home to numerous gardens, parks, and recreation areas, as well as the cinema, a music scene filled with a variety of musical genres, and the theatre.
Map of Lincoln University
Lincoln University officially appointed representative in Singapore
JACK StudyAbroad
Address: #08-02 Orchard Gateway@Emerald, S238851
Direction: Opposite Somerset 313
Phone: (+65) 6737 6734
Business Hours: Mon-Fri 9.30-18.00; Sat 10.00-13.30
JACK StudyAbroad helps you with:
Advice on Lincoln University: entry requirements, application progress and pre-application assessment
Certification of documents
Application checking & submission
Overseas student visa application assistance
Hostel & student flights booking
Funded by universities, all these services are free of charge for students in Singapore.
If you are ready to apply
Please complete a short online application form (takes 3 minutes to complete).
If you need more information on Lincoln University
Please call us during office hours or complete the enquiry form on this page
Are you in Singapore? You are eligible for our free services.
We are the overseas university application centre in Singapore. Fully funded by universities, our services are free for students in Singapore. Contact us to get free advice and assistance on your application, visa and accommodation.
Online Enquiry Form