The Australian National University (ANU) is ranked the No.1 university in Australia and 24th in the world by the 2019 QS World University Rankings. Distinguished by their excellence in research and education, ANU is also a key member of the Group of Eight (Go8) as one of their recognized research-intensive universities.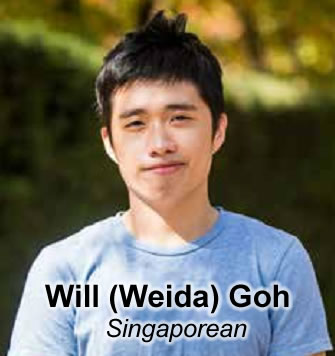 "I chose ANU because of its high quality teaching and Canberra's living environment – as I was looking for a city where I can focus on my academic pursuits. The teachers here have encouraged lateral thinking and have given me a critical distance which I couldn't have gained in Singapore." – Weida Goh
Why ANU?
High Ranking – Ranked No.1 among all Australian universities
Value for Money – Cost of living is 20% cheaper than in Sydney/Melbourne
Excellent Research – ANU hosted 6 Nobel Laureates
Explore your options
Students in Singapore with:
Bachelor's Degree obtained in Singapore or overseas:
Discover ANU's postgraduate degrees and achieve your master's degree within 1.5 to 2 years.
Polytechnic Diploma
With a relevant diploma of GPA 3-3.4 and above, complete your bachelor's degree in 2 years with possible credit exemptions of 1 year.
GCE A-Levels / IB
Apply to ANU with your A-Levels / IB results. All ANU courses are recognised by the Singapore government including Business, Engineering, Law (LLB), Medicine, Arts etc.
GCE O-Levels
You may progress to ANU directly upon successful completion of the ANU College Foundation year program
What to do next:
Jack StudyAbroad is ANU's authorized representative in Singapore. Get personalized advice on your study plan and assistance with your application to ANU. Contact us today! All services are free for students.
Start by completing the Online Enquiry Form, (it'll take less than 30 seconds!) – once received, one of our Singapore based staff member will be in touch very soon to arrange for a 1-to-1 consultation.
Alternatively, please do not hesitate to call us for more information: (+65) 67376734 (Mon-Fri, 930am-6pm)