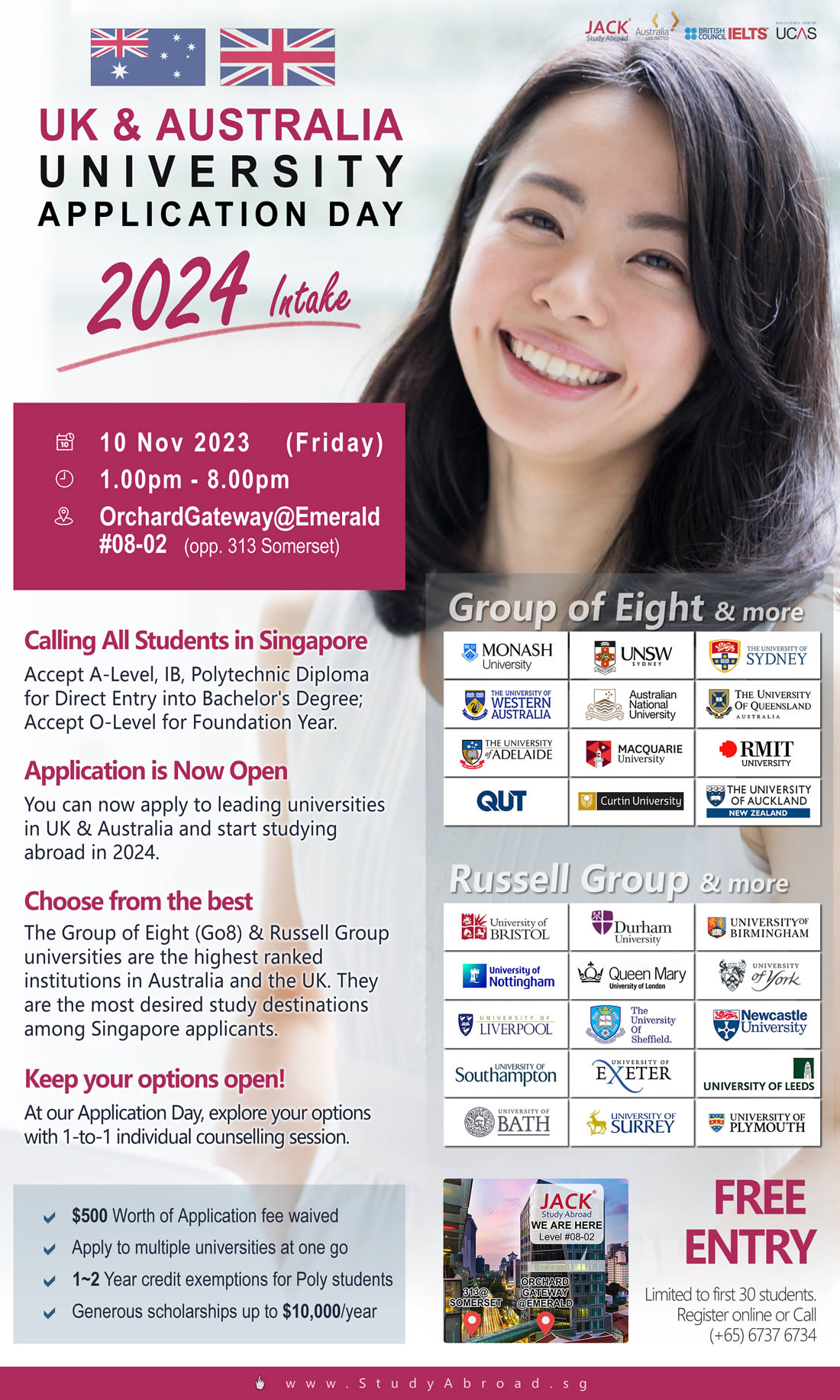 UK & Australia Application Day – 10 Nov 2023
Calling all students in Singapore: You can now apply to leading overseas universities and start studying abroad in 2024. Make your way down to this special 'UK & Australia' Application Day to lodge your application to many elite universities at one go.
Event Details:
Date: 10 Nov 2023 (Friday)
Time: 1.00 pm – 8.00 pm
Venue: 08-02, OrchardGateway@Emerald (Opp. 313 Somerset)
This Event is suitable for:
A-Level, IB students seeking direct entry to uni
Polytechnic students seeking credit exemption at uni
N/O-Level, iGCSE students seeking foundation year
Bachelor students seeking Master programs
You can apply to:
Medicine / Dentistry  /  Pharmacy / Physiotherapy / Nutrition / Occupational Therapy
Law / LLM / Politics / International Relations
Business / Finance / Accounting
Engineering / Science
Media / Art & Design
All other subjects
Various Foundation Year Programs
Polytechnic to University 1-Year Top Up Degree
You will receive free visa advice when you lodge application during the event. Please bring these documents with you:
Original/Copy of your transcript or result slip
Original/Copy of your certificate, if any
If studying at degree/diploma,  your previous semesters transcript
Pre-Register to get Priority Service
The event will be crowded. If you pre-register online, you will be prioritised and assigned a fixed time slot for the 1-to-1 consultation so that you don't have to wait for long time.
Please fill in the registration form now.