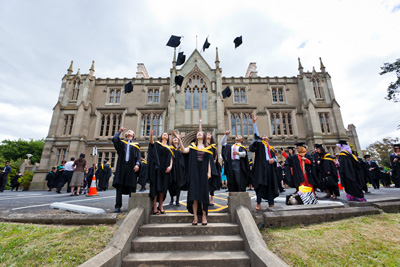 The University of Tasmania (UTAS) was founded on 1 January 1890. It's the fourth oldest university in Australia and is ranked in the top 10 research universities in Australia. UTAS is a special university located in a special place – Tasmania, Australia's beautiful island state. The University is a nice size – not too big and not too small. The main Hobart campus is set on 100 hectares in the suburb of Sandy Bay, overlooking the Derwent River and five minutes travel from the city centre.
University of Tasmania officially appointed representative in Singapore
JACK StudyAbroad
- Free services for Singapore students
Address: #08-02 Orchard Gateway @Emerald, Singapore 238851 (Opp. Somerset 313)
Phone: (+65) 6737 6734
Business Hours: Mon-Fri 9.30-18.00; Sat 10.00-13.30
JACK StudyAbroad helps you with:
University of Tasmania entry requirements and pre-application assessment
Certification of your application documents
Submission of application & follow-up
Overseas student visa (if required) application
Pre-departure advice
Funded by universities, all these services are free of charge for students in Singapore.
If you are ready to apply
Please complete the online application form (takes 3 minutes to complete).
If you need any help, advice or assistance on course information, application, visa and accommodation on University of Tasmania
We are happy to help. Please complete the enquiry form below.
What's Next
Please fill in the online enquiry form and our representative will contact you within 1 business day. All services are free of charge. Alternatively, please call 67376734 during office hours.